Laser Dentistry at Smile Works Pediatric Dentistry, No Shots… No Kidding!
Imagine pain free dentistry for your children without shots and without the stress! Our highly skilled dentist here at Smile Works Pediatric Dentistry in Basking Ridge, Dr. Andrea Mann, uses a high tech laser to achieve results with no needles, no numbing, and no stress.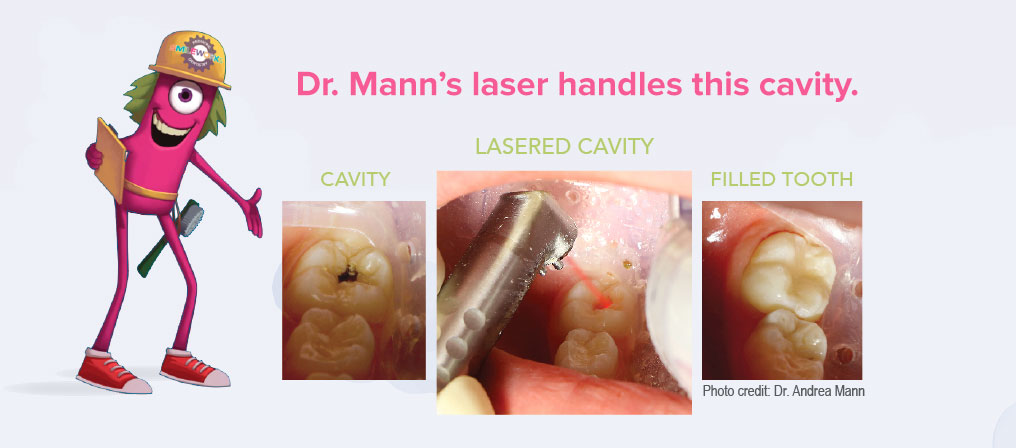 A Typical Visit
Dr. Andrea Mann and her team make going to the dentist a positive and even fun experience! The office is child-friendly and fun with interactive iPad games, flat screen TVs above each treatment chair, and lots of prizes.
From the moment you step into the office in Basking Ridge, you will be greeted by her warm and friendly staff. Her experienced team loves working with children and is committed to making each and every visit for your child an enjoyable one. They are specially trained in calming children who are anxious and fearful or those with special needs. Children feel relaxed so parents feel relaxed.
During treatment children enjoy watching flat screen TVs with children's shows, can bring their own DVD movie or choose a Netflix show while listening to stereo-surround noise-canceling headphones. It's like being in a movie theater!
"My son was very excited to see that they have TV's with tons of kids channels, funny sunglasses, and many cool scents of laughing gas to help make the visit as painless as possible."
– Father
"I watched 'Drake and Josh' while they were working on me. This was the greatest Dr's office ever."
– 11 Year Old
What are the benefits of Dr. Mann's dental lasers?
NO needles, NO numbness
Preservation of healthy tooth structure with smaller, more controlled preparations
No concerns about the children injuring themselves after an appointment by biting his or her lip, cheek, or tongue
Reduces child's stress and fear of going to dentist
Reduces child's fear and parent's stress of going to dentist
Return to daily routine faster after treatment
How Does Laser Dentistry Work?
Dr. Mann's dental laser emits a specialized beam of light that searches for water.
Since teeth are partly composed of water and cavities even more water, the laser searches for the water molecules and then micro-explodes the molecules in the path of the invisible laser beam at the cellular level.
This micro-explosion is not seen or felt by the child and is heard as a slight 'popping' sound.
The laser is bactericidal which means it sterilizes as it removes decay.
How does Laser Dentistry feel?
Kids find laser procedures remarkably comfortable! Kids feel nothing more than the touch of the Dr. Mann's handpiece and an occasional sensation of warmth.
The most common 'complaint' Dr. Mann gets about the laser is from the parents who wish Smile Works could treat them too and not just their children!
Types of Lasers
Dr. Mann uses the LightScalpel CO2 laser for soft tissue procedures such as tongue and lip frenectomies, fibroma removal, herpetic lesions treatment, gingivectomy, gingivoplasty, and soft-tissue biopsies. The LightScalpel CO2 laser operates at a specific wavelength that is highly efficient in cutting and coagulating the soft tissue at the same time. Water, which makes up most biological tissue, absorbs this frequency of light very well leading to advantages which include: no numbing, less bleeding, shorter surgery time, less risk of infection, and less post-op swelling.
For procedures such as fillings, baby root canals, and sealants, Dr. Mann uses a hard tissue laser called the LightWalker. The LightWalker functions by searching for water molecules in a tooth. A tooth with a cavity is composed of even more water than a regular tooth. The laser micro-explodes the water molecules in the path of the laser beam; effectively removing the caries from the tooth. The micro-explosion is not seen or felt by the kids and requires no prior numbing with needles. Using a hard tissue laser provides true minimally invasive dental treatment and preserves more of the natural tooth structure leading to better long-term results.
The DIAGNOdent is a special little laser that lets Dr. Mann look at a tooth in a different way other than using a mirror and explorer or x-rays. It can help her catch breakdown of the tooth below the surface before it can be detected the other ways. The laser beams light into the tooth and a number is given, high numbers indicate that there may be decay starting below the surface. Early detection allows her to catch early stage decay that may be managed by simply brushing on a special medicine, such as silver nitrate or silver diamine fluoride (SDF), to arrest the decay. At future checkups, Dr. Mann can compare to make sure the number has stayed the same or improved, a way to scientifically measure that the decay is not progressing which often prevents further treatment for the tooth!
What are the uses of dental lasers?
Detect Decay
Remove decay with NO numbing, NO shots
Re-contour overgrown gum tissue after braces
Expose teeth to help tooth eruption
Biopsy without stitches
Treat canker sore discomfort and halt cold sore onset
Help healing with biostimulation after a trauma
Our mission at Smile Works Pediatric Dentistry is to create happy and healthy smiles while making the experience positive, painless, and even fun for your children! Dr. Andrea Mann uses high tech lasers to achieve results with no needles, no numbing, and no stress. Call our office in Basking Ridge, NJ today!
Request an Appointment